David Buchwald Endorsed by 32BJ SEIU
Union Touts Buchwald's Proven Pro-Labor Track Record, Calls Him a "Champion" for Working People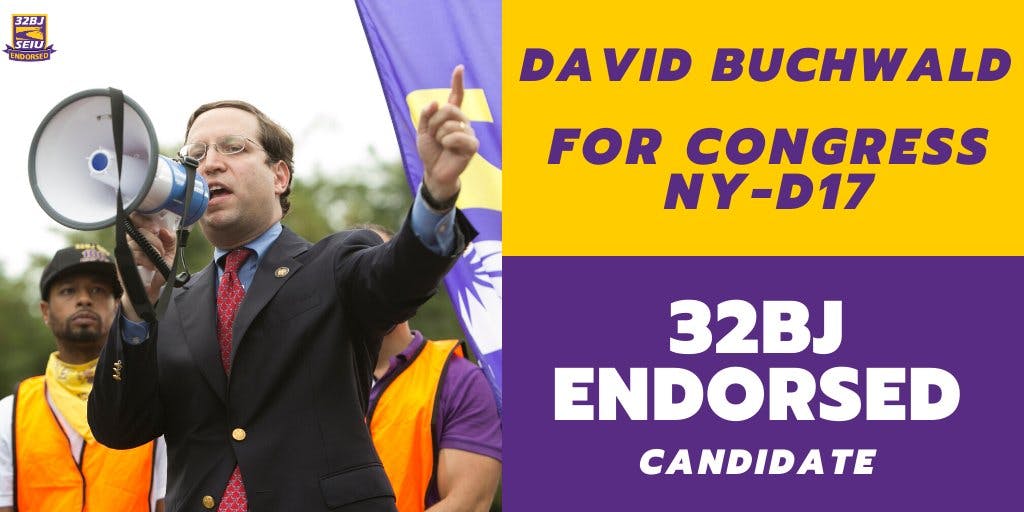 LOWER HUDSON VALLEY, N.Y. -- Today, Assemblymember David Buchwald, running for Congress in New York's 17th Congressional District to succeed U.S. Rep. Nita Lowey, was endorsed by the members of 32BJ SEIU, the largest property service union in the country. The union hailed his proven pro-labor track record, calling him a "champion" for working people. Their support is just the latest sign of Buchwalds' growing momentum as the campaign enters the final forty day stretch before primary day, June 23.  
"The Hudson Valley District of 32BJ is proud today to announce our endorsement of David Buchwald for U.S. Congress in New York's 17th District," said 32BJ SEIU Assistant to the President Lenore Friedlaender. "It is impossible to imagine how working people could have a greater champion than Assemblyman Buchwald has been. Our members come from all races, nations and backgrounds, working hard every day to keep our homes and workplaces clean and safe, and David Buchwald has understood their struggles and supported them throughout his accomplished career in public service. He was there for working people when he was a White Plains Common Council Member and has voiced the aspirations of working people in the New York State Assembly as a champion for better wages and crucial health benefits, and would succeed Congresswoman Nita Lowey as great advocate in the U.S. House of Representatives. Whether a single worker has unfairly lost a job or we have all joined together to fight for paid sick leave, David Buchwald has been there with us, and we are proud to support him as he seeks this next great opportunity to represent residents of the Hudson Valley."
"For many years, working men and women have known they could count on 32BJ as an ally in the fight to level the economic playing field," said Buchwald. "I am honored to have their support. Together, we'll go to Washington and stand up for national Paid Sick Leave, a higher minimum wage, protections for workers' rights, lower health care costs, and the ability of every American to retire with dignity."
32BJ SEIU represents about 85,000 members in New York, who work as residential porters, doormen and women, window washers, office cleaners, security officers, airport wheelchair attendants, school janitors and other building service jobs.
The union joins a growing coalition of nearly 70 groups and individuals supporting Buchwald, including the Communications Workers of America, New York State Professional Firefighters, Hudson Valley Stonewall Democrats, New York State Senator James Skoufis, multiple New York State Assemblymembers (Amy Paulin, Gary Pretlow, Daniel O'Donnell, Victor Pichardo, and Nader Sayegh), Westchester County Clerk Tim Idoni, Westchester County Board of Legislators Chairman Ben Boykin, Former NY-17 Democratic Congressional Candidate and Westchester County Legislator Catherine Borgia, White Plains Mayor Tom Roach among dozens of local elected officials, and all seven local Democratic Committees that have made endorsements in the race. Earlier this week, the Cortlandt Democratic Committee also voted its approval of Buchwald's candidacy.
Buchwald is in his fourth term as a member of the New York State Assembly and has sponsored over 70 pieces of legislation that have become law. Last year, he introduced and passed the New York TRUST Act, which enables the U.S. Congress to request the New York State tax returns of top government officials -- a law which Donald Trump is now suing to block. Previously, he served on the White Plains Common Council, worked as an economics researcher on antitrust issues, and practiced tax law in New York.