Westchester County Executive George Latimer Endorses David Buchwald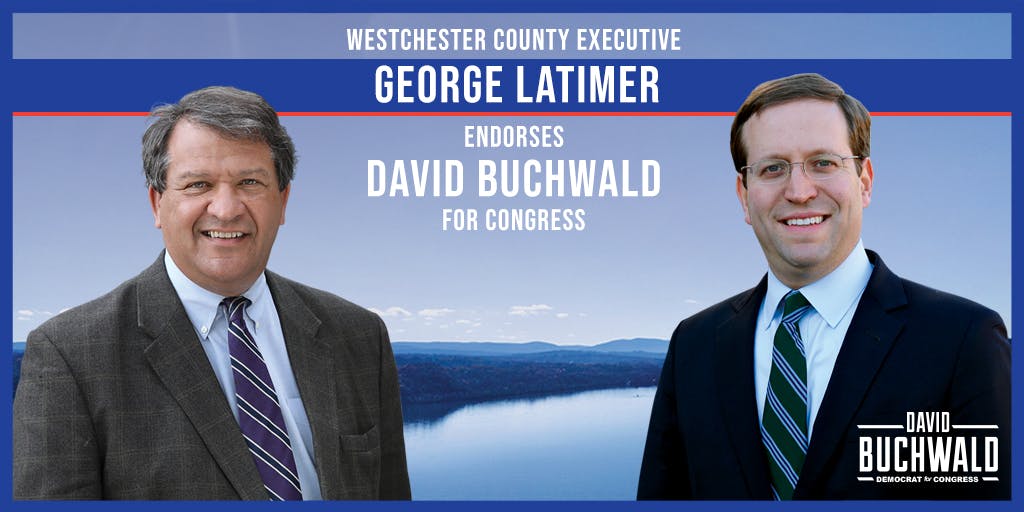 Highest-Profile NY-17 Elected Leader to Endorse in the Race
Signals Coalesce of Support for Buchwald's Campaign with Voting Ongoing 
WHITE PLAINS, N.Y. -- Today, Westchester County Executive George Latimer endorsed Assemblymember David Buchwald in his run for Congress in New York's 17th Congressional District to succeed U.S. Rep. Nita Lowey. This is the highest-profile endorsement of any candidate running in NY-17, showcasing that only Buchwald has the ability to consolidate support across Westchester and Rockland Counties. Latimer joins over 80 leaders, unions, and Democratic organizations in supporting Buchwald. 
"Recovering from COVID-19 and Trump will take leaders like David Buchwald fighting for all of us in Congress," said Latimer. "David is a proven progressive and practical problem-solver whose record of results makes him the best candidate to succeed Congresswoman Nita Lowey. I have seen firsthand his fierce dedication to his constituents and substantive policymaking skills in action -- he'll be ready on day one in Washington. I am proud to call David Buchwald a friend, colleague, and soon: our next Congressman."
"George Latimer's leadership has helped steer Westchester through crisis after crisis," said Buchwald. "From helping our area hold utility companies to account after power outages, to ensuring property tax relief for local taxpayers, I am proud to have worked with George on important issues facing the Lower Hudson Valley. His support signals to voters across New York's 17th Congressional District that this is a time to unite in support of a true-blue Democrat with a record of proven success putting the public's interests first. Together, we'll win the race and make sure Washington is delivering for every one in Westchester and Rockland."
With only 19 days to go until Election Day, Latimer's endorsement builds on already growing momentum for Buchwald's campaign. In recent weeks, Buchwald has been endorsed by the New York State Nurses Association, 32BJ SEIU, Communications Workers of America, New York State Professional Firefighters, Hudson Valley Stonewall Democrats, New York State Senator James Skoufis, multiple New York State Assemblymembers (Sandy Galef, Amy Paulin, Gary Pretlow, Danny O'Donnell, Victor Pichardo, and Nader Sayegh), Westchester County Clerk Tim Idoni, Westchester County Board of Legislators Chairman Ben Boykin, Former NY-17 Democratic Congressional Candidate and Westchester County Legislator Catherine Borgia, White Plains Mayor Tom Roach among dozens of local elected officials, and seven local Democratic Committees representing more than 55,000 registered Democratic voters. 
Buchwald is in his fourth term as a member of the New York State Assembly and has passed 70 pieces of legislation that have become law. Last year, he introduced and passed the New York TRUST Act, which enables the U.S. Congress to request the New York State tax returns of top government officials -- a law which Donald Trump is now suing to block. Previously, he served on the White Plains Common Council, worked as an economics researcher on antitrust issues, and practiced tax law in New York.