New York State Nurses Association Endorses David Buchwald
Buchwald Praised by Nurses' Union for His Commitment to Workers; Buchwald Campaign's Coalition of Organized Labor Support Grows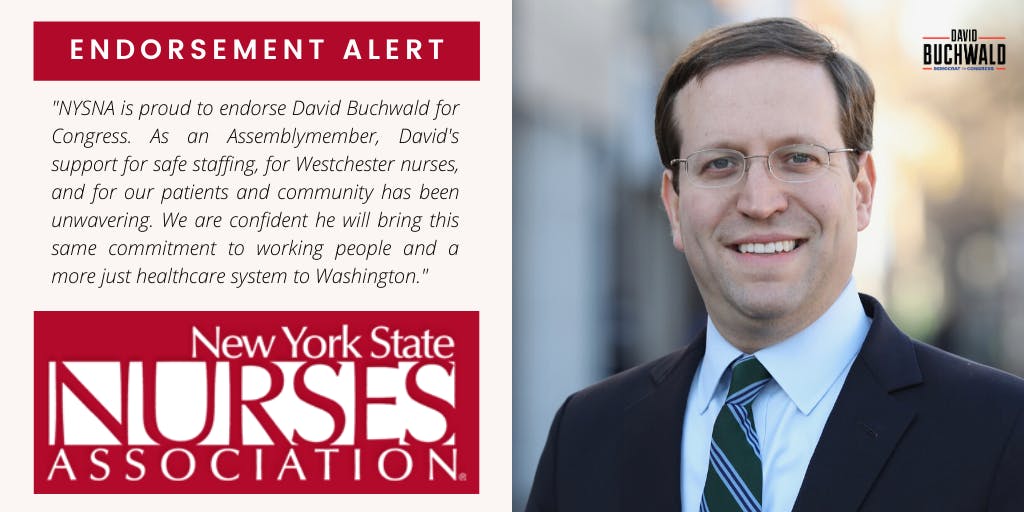 LOWER HUDSON VALLEY, N.Y. -- Today, Assemblymember David Buchwald, running for Congress in New York's 17th Congressional District to succeed U.S. Rep. Nita Lowey, was endorsed by the members of the New York State Nurses Association (NYSNA), the largest union and association of registered nurses in the state. The union of 42,000 New York frontline nurses hailed his commitment to working people. Their support came on the same day Buchwald was endorsed by 32BJ SEIU, showcasing his campaign's growing momentum with less than six weeks until the June 23rd Democratic primary.
"NYSNA is proud to endorse David Buchwald for Congress," said Jayne Cammisa, RN, NYSNA PAC member, Board Member, and Executive Committee member at Westchester Medical Center. "As an Assemblymember, David's support for safe staffing, for Westchester nurses, and for our patients and community has been unwavering. We are confident he will bring this same commitment to working people and a more just healthcare system to Washington."
"It is a true honor to have the support of NYSNA," said Buchwald. "Their work protecting nurses and keeping other healthcare professionals safe during the COVID-19 pandemic is critical: ensuring access to PPE, fighting for crisis pay, securing testing, and more. In Congress, I'll fight for national Paid Sick Leave, protect workers' rights, and advocate for greater access to healthcare for everyone."
The union joins a growing coalition of more than 70 groups and individuals supporting Buchwald, including the Communications Workers of America, New York State Professional Firefighters, 32BJ SEIU, Hudson Valley Stonewall Democrats, New York State Senator James Skoufis, multiple New York State Assemblymembers (Amy Paulin, Victor Pichardo, Gary Pretlow, Daniel O'Donnell, and Nader Sayegh), Westchester County Clerk Tim Idoni, Westchester County Board of Legislators Chairman Ben Boykin, Former NY-17 Democratic Congressional Candidate and Westchester County Legislator Catherine Borgia, White Plains Mayor Tom Roach among dozens of local elected officials, and all seven local Democratic Committees that have made endorsements in the race. Earlier this week, the Cortlandt Democratic Committee also voted its approval of Buchwald's candidacy.
Buchwald is in his fourth term as a member of the New York State Assembly and has sponsored over 70 pieces of legislation that have become law. Last year, he introduced and passed the New York TRUST Act, which enables the U.S. Congress to request the New York State tax returns of top government officials -- a law which Donald Trump is now suing to block. Previously, he served on the White Plains Common Council, worked as an economics researcher on antitrust issues, and practiced tax law in New York.